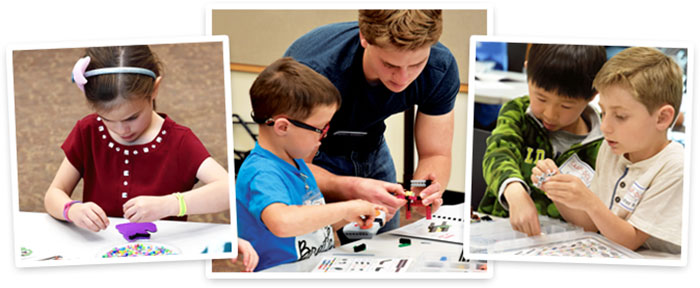 A Typical Day at Builder Camp
Big and small, kids will build it all in this camp guided by instructors from Craftsman & Apprentice, along with DCL staff and volunteers. Each day features different skill-building lessons, demonstrations and hands-on activities.
Check-in:
Kids check in with DCL staff and have a few minutes of free time to draw.
Skill Building + Techniques:
Instructors will lead kids in skill-building exercises and demonstrate techniques related to the day's construction and building project.
Lessons throughout the week include cardboard construction techniques, creating stone architecture, mixing mortar for building with stone, and wood construction, including safety practices.
Hands-on Activities:
We'll put each day's skill-building lessons to work!
Kids will get hands-on with designing and building their daily project. For example, one day will be spent constructing a wooden birdhouse from a kit. Kids will sand the wood, nail together the pieces, and paint and decorate their birdhouses, putting tool use and construction techniques to work.
Snack Break:
Kids can recharge with a short break, snacks included, during the hands-on activity.
Cleanup + Reflection:
We'll end each day by cleaning up and sharing what everyone learned.
A Typical Day at Chef Camp
Cooking is fun and educational at our STEAM-y chef camp. With guidance from the experts at Sticky Fingers, young chefs will whip up delicious recipes and conduct experiments with edible ingredients while using Science, Technology, Engineering, Arts and Math (STEAM) concepts (a different concept that relates to food or cooking each day).
Check-in:
Kids check in for camp with DCL staff.
Experiment + Activity:
We start each day with a fun, hands-on experiment related to food and/or cooking using one of the five STEAM concepts (a different concept/experiment each day).
The instructor will introduce the experiment and talk about the related STEAM concept in a way kids will easily understand. For example, the first day of camp covers Science, and the experiment answers the question: Are you a super taster? Kids will learn about taste buds and how they work. Then, they'll put their taste buds to the test with an edible experiment.
This part of the day also includes a craft or other activity, like coloring sheets or puzzles.
Let's Cook:
After the STEAM experiment, kids will don their aprons, go through food prep activities, and then cook two recipes guided by the Sticky Fingers instructor.
Cleanup:
At the end of the day, kids will learn another important part of cooking: cleaning up!