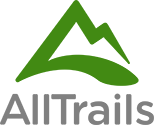 Access 140,000 trails from around the world with AllTrails Pro.
Your free Pro upgrade includes downloadable trail maps, reviews, photos, and access to real-time map overlays and Lifeline safety tracker for one year.
Create an AllTrails account and redeem our Pro coupon code at AllTrails.com.
No credit card information required to apply coupon code.
Codes may not be redeemed in the AllTrails app; good for the Annual Plan only.